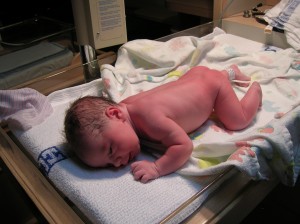 The world got one more vegan yesterday (5-Nov-08) at 6:14pm when Madeleine Helen Marie Fisher was brought into this world. She was 7 lbs 1 oz and 20 inches long. As can be seen in this picture she quite liked laying on her front with her butt up in the air. Contractions began just after Obama's acceptance speech, so obviously she was waiting for that before gracing us with her presence.
Both mother and daughter are doing well.
Update: photos are now online here.